"Whatever you do, you look at the future."
So says Hartwig Vatheuer. After 20 years of service on the Board of Kittitas County Public Hospital District #2 (HD2), Vatheuer knows a thing or two about planning for the future of healthcare services in Upper Kittitas County. When he and fellow board member Floyd Rogalski first ran for office, they had different interests but a common desire to improve a struggling board and restore the trust of the community.
"I've always been interested in medical systems," says Rogalski, who served for six years as a first responder with the Cle Elum Fire Department. Years earlier, while on a fire line during a stint with the U.S. Forest Service, Rogalski first wondered – why form a separate hospital district? "Can't we just all be one?" he recalls thinking at the time. "That'd be nice, but with our different tax systems it's not likely to ever happen. But I found it interesting."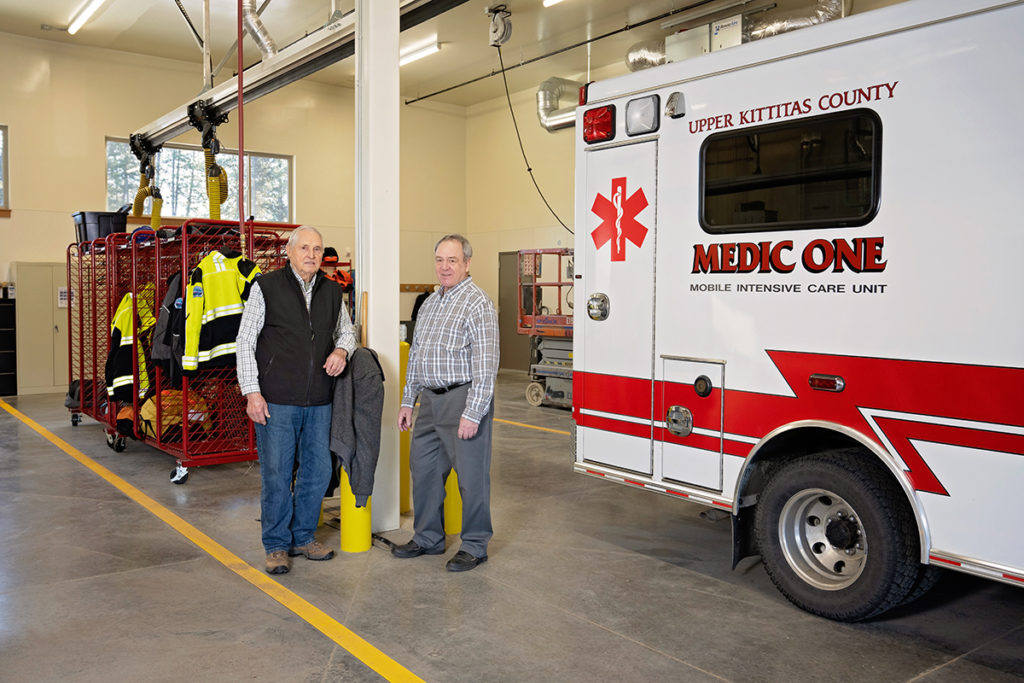 Years later, while serving on the Cle Elum City Council, Rogalski's interest was further piqued when friend and fellow council member Lloyd Olson approached him about the upcoming hospital district elections. "It got a little more interesting," says Rogalski. Vatheuer, who also planned to run, had the same idea. "Hartwig asked me, 'Why don't you run for the Board?' So I did. And that's how it all started."
Both men won their seats by comfortable margins. Vatheuer came into his role with an especially good grasp of what to expect: months earlier, he'd answered an ad for people interested in helping the Board plan for an emergency facility. It was during those planning sessions that Vatheuer became aware of the financial situation. "They had a budget, but they didn't stick to it," recalls Vatheuer. "Money was spent that wasn't there or projected to come in in the near future."
Vatheuer's interest in the health of the hospital district was noticed by other community members. "Somebody talked me into signing up as a candidate," he says. With a long history as a Plum Creek Timber employee, Vatheuer was already very familiar with budgeting. "Although," he admits, "It's different in a private company. I realized that very quickly."
Meanwhile, the district had almost gone bankrupt, says Rhonda Holden, KVH Chief Ancillary Officer and long-time Upper County resident. "There was actually a promissory note for a hundred thousand dollars; it was almost like a lien against them. If they didn't come up with money, they'd close as a public hospital district."
When the Board convened in January 2002, they had a laser focus on financial stability. One of their first actions was to work with Hospital District 1 (KVH). "We leased our building to KVH to provide services to local residents," says Vatheuer. KVH later used the space to provide urgent care.
Rogalski agrees, noting that the agreement helped to greatly improve the relationship between hospital districts – a strong partnership that continues today.
An outstanding debt to Suncadia was also wisely handled. "Essentially, we traded," says Vatheuer. As the parties considered the ways the hospital district would be affected by an influx of people, "We agreed on a number, and traded the debt against what we could expect in the future because of the growth Suncadia brought to the area."
The Board passed levies, both of which are now permanent. Finally able to shift their focus to current needs, they considered a proper facility for urgent care. "KVH then bought the building where the urgent care is now," notes Vatheuer. "That has been a success."
(Years ago, with his young son suffering from severe allergies, Vatheuer spent many hours in hospitals and healthcare facilities. It left a lasting impression, driving Vatheuer not only to run for the Board, but to bring urgent care services to Upper County's families and communities. That same son now practices medicine on the west side.)
"Under Floyd and Hartwig's leadership, the Board took the district from basically bankruptcy into what it is today, which is financially stable," affirms Holden, who attends HD2 Board meetings and assists with their strategic planning. "We now know what we want to do as a district." She proudly points to Station 99, the new home for Medic One. "The new station is a flagship. It's a huge accomplishment for the Board, and gives them direction on where to go next."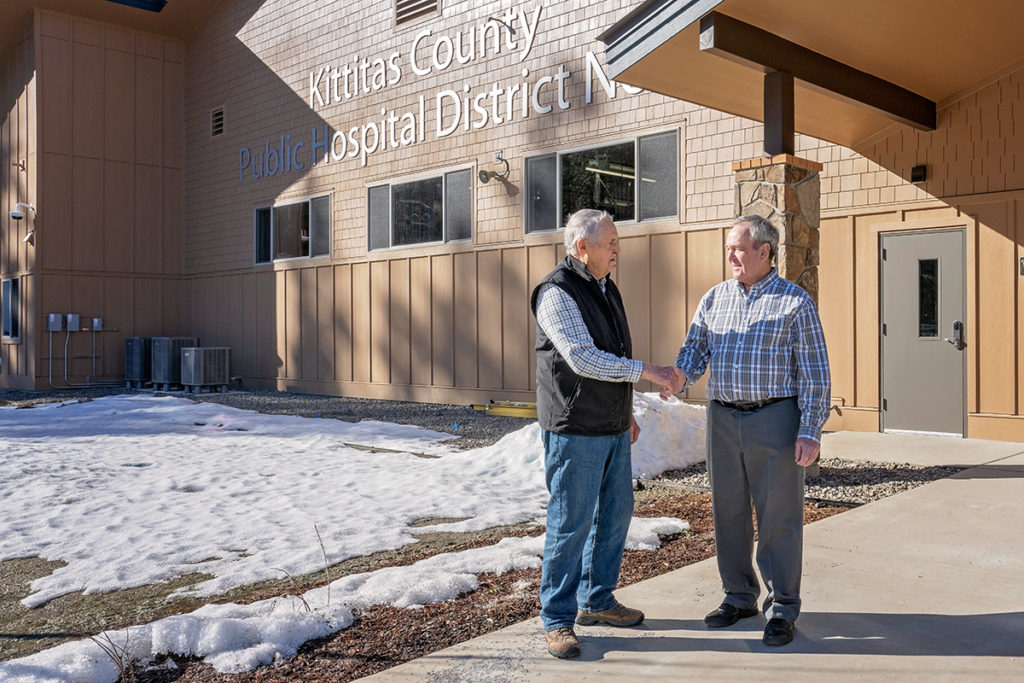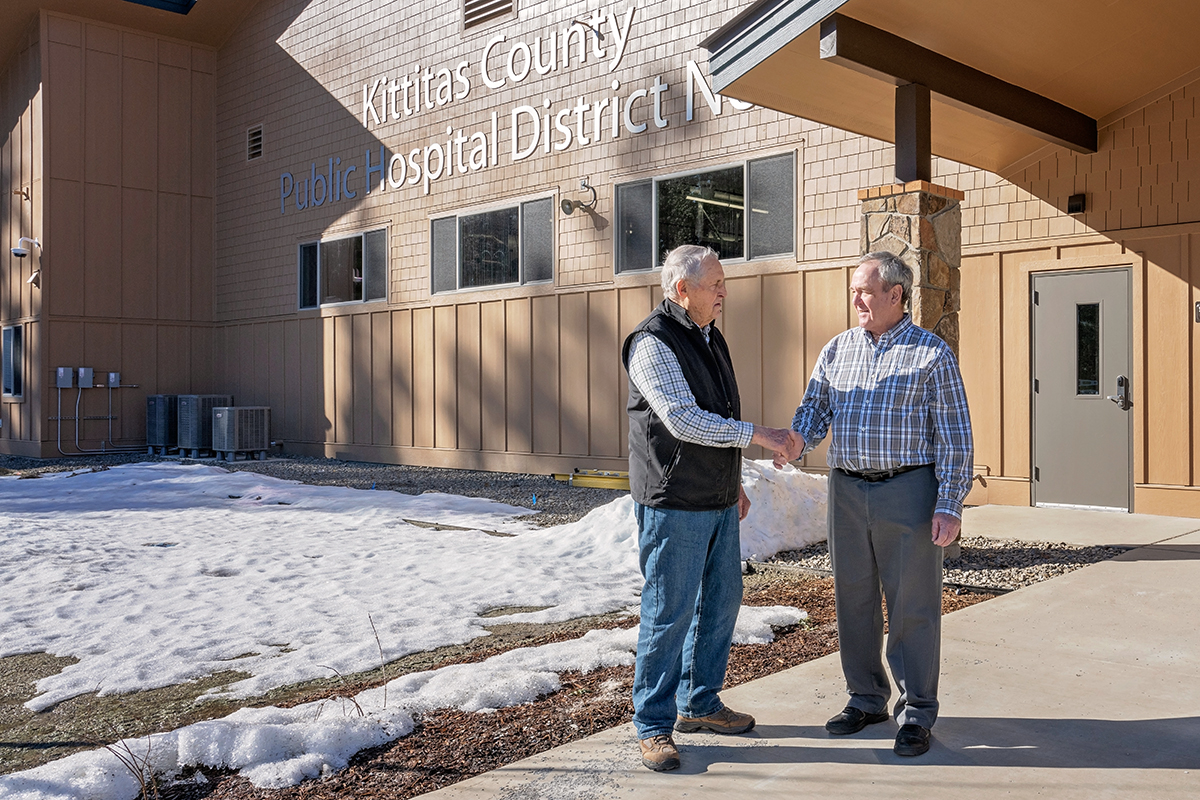 Before any planning was done for a new ambulance station, the Board took a hard look at the current situation for ambulances. "We had two when we started," says Vatheuer. "Now we run two ambulances, but we also have two backups." An accident in 2021 took out one of their rigs, which was replaced earlier this year. A second new rig will join the fleet in the coming months.
"We take patients a long distance," says Vatheuer, "Yakima, and the west side, of course. So you have to have reliable ambulances." Thankfully, the district also has reliable partnerships with area fire districts and city fire departments. When a call comes in, if Medic One's backup ambulances and crews are already out on calls, coverage is still available.
Rogalski weighs in. "We've increased our ambulance fleet. We've gone to a 24/7 system." Just as important, notes the former firefighter, Station 99 has improved crew quarters. "When I started my first term on the Board, crew members were responding to calls from their homes. The cook was the maintenance man was the ambulance driver," he says, calling the ambulance "an enhanced station wagon."
Determined to keep HD2 on solid footing, Vatheuer and Rogalski ensure all incoming bills and expenses are closely examined. "They always ask good questions, put me on the spot," says Medic One Operations Manager Geoff Scherer, who believes their financial accountability makes him better at his own job.
"When you have the kind of longevity that Floyd and Hartwig bring, it's embedded in their decision making. It is a fascinating thing to watch," says KVH CEO Julie Petersen, who as a de facto Board member regularly sees the veteran pair in action. "They've already seen and done so much. And when old ideas resurface, they could easily say 'We already tried that, we're not going to do that again,' but instead, it's 'All right, go ahead, give it a shot.'"
It's that kind of experienced yet open attitude that has brought Hospital District 2 out of a financially troubled past and into a prepared future.
Now in their twenty first year on the Board, what words can we offer these men who have served their communities so well, for so long?
"I hope they stick around a while," says Geoff Scherer. We couldn't agree more.