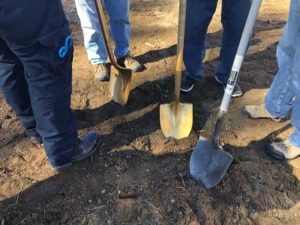 This week, Kittitas County Public Hospital District #2 (KCPHD#2) Board members and Medic One staff officially broke ground for a new Ambulance Station.
The station will be more than 8,000 square feet and will replace the current outdated, outgrown garage built in the 1950s, which does not provide enough bedrooms for staff or space for ambulances.
"The construction of a new station will not only expand space for Medic One ambulances and staff, it will also allow Medic One to operate in a comfortable, safe, and efficient environment," said Geoff Scherer, Operations Manager for Upper Kittitas County Medic One.
The Board embarked on a master site and strategic planning in 2017. The new ambulance station quickly surfaced as the District's highest priority.
The Board worked closely with Administration, the Medic One crews and KDA Architects to design a facility to meet the unique needs of the Upper County community today and 20 years into the future.
"This has been many years in the works," said Floyd Rogalski, President of the Board of Commissioners for Hospital District 2. "We're thankful to finally be breaking ground."
Fully funded without raising taxes, and adjacent to the existing KVH Family Medicine clinic, the station will have a similar look to the other buildings on campus.
Clearing of the project site started in August this year. Construction is slated to start soon and last 9-10 months. KCPHD#2 is hoping to have a ribbon cutting in July of 2021.
Kittitas County Public Hospital District No. 2 (KCPHD #2) provides ambulance services to Upper Kittitas County residents through Upper Kittitas County Medic One.